The conference takes place at Hitotsubashi Hall, which you can reach from the second floor of the National Institute of Informatics' (short: NII) main building, Tokyo, Japan.
Getting there
TL;DR: Here is the address of the NII main building. From there, Hitotsubashi Hall is on the second floor (2F).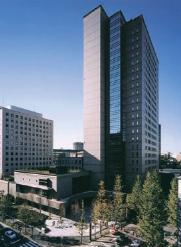 2-1-2 Hitotsubashi, Chiyoda-ku
Tokyo 101-8430
Tel: +81-3-4212-2000 (Exchange)
Travel
Japan is widely known for its easy-to-use and convenient public transport. Nonetheless, Tokyo is a HUGE city and maybe confusing at first.
Hint: Google/Apple/OpenStreet Maps are very good at leading you the right way. Most of Tokyo's subway lines and stations offer free Wifi.
Travel to Tokyo
Tokyo is served by two international airports (Narita and Haneda) which have great connections to the city centre.
NOTE: Unless you choose to pay for each ride individually, you will probably need to purchase a public transport pass. It is often convenient to do this right away at the airport after arrival. (see also Subway Passes below)
After arriving in Japan by plane, you might want to first head towards one of the major train stations (Tokyo Station, Ueno Station, Shinjuku Station) and continue from there, depending where your hotel is located.
From Narita Airport
There are several options to get to central Tokyo from Narita Airport.
Here is a more detailed overview of the options: Transport to and from Narita Airport
From Haneda Airport
Haneda is located just south and a bit closer to the city centre.
The easiest connection is to take the Tokyo Monorail to central Tokyo (e.g. Tokyo Station or Ueno Station).
A taxi will cost somewhere between JPY 7,000 and JPY 10,000, depending on the exact destination.
Here is a more detailed overview of the options: Transport Haneda Airport
Within Tokyo (Getting to Hitotsubashi Hall / NII)
NII's main building is located very centrally, just north of the Imperial Palace with good access to various sightseeing spots, e.g., Ginza, Shinjuku, Roppongi, Akihabara, Asakusa and Tokyo Tower.
It is conveniently located in walking distance from several major subway lines. The closest subway stations are Jimbōcho Station and Takebashi Station. It is a 3–5 minute walk from either station.
If you arrive by Tokyo Metro Hanzomon Line / Toei Mita Line / Toei Shinjuku Line get off at Jimbocho and head towards Exit A9.
Should you come by the Toyko Metro Tozai Line, exit at "TAKEBASHI" and head towards Exit 1b.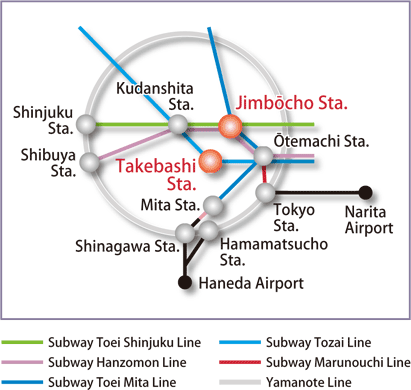 Subway passes
Japan has a very convenient prepaid card system (Pasmo / Suica) that can be bought at most subway stations and many other places (e.g. convenience stores). These cards can also be used to pay at many restaurants, convenience stores, vending machines, etc.
Tourists can, however, purchase cheaper 24/48/72 hour tickets. You will probably have to show your passport to prove your tourist status. More information here: https://www.tokyometro.jp/en/ticket/travel/
Visa Information
Every person entering Japan should have a valid passport. You may need a Visa depending of your country of origin. Please contact the nearest Japanese Embassy or Consulate to your home for further information. More information is available from Ministry of Foreign Affairs of Japan.
It is the sole responsibility of the attendee to take care of their visa requirements. Attendees who require an entry visa must allow sufficient time for the application procedure. Attendees should contact the nearest embassy or consulate to determine the appropriate timing of their visa applications. It is recommended to apply for a visa in advance of the Conference.
We can issue, upon request, an official Visa support letter for accepted authors only. Please get in touch as soon as possible by sending the following information:
Your name as it appears on your passport
The name of the conference (SPLC 2023)
Your registration confirmation number
Your current postal mail address
Visa support letters are issued per e-mail, and the original is mailed to your postal address if requested. Please make sure to apply for a support letter on time.
Accommodation
Being located in central Tokyo, there are a plethora of hotels with easy access to NII, ranging from 5-star residences to renowned capsule hotels. Among the many, these are some popular hotels near NII:
Walking Distance
By Subway
Hint: While Tokyo's public transport is great, we recommend choosing an accommodation in walking distance (i.e. the Jimbocho area) or along the public transport lines that connect directly to NII (see above).
Further Information
You can also enjoy short trips to various places around the Kanto area, e.g., Tokyo Disney Resort, Yokohama, Kamakura, and Nikko. If you have much time, please consider to visit Kyoto, Nara, or Mt. Fuji (tourists can get reduced-fare bullet train passes). You can get more details about Japan in the following sites.
JTB Sunrise Tour
Japan National Tourist Organization
Japan Travel Guide
Japan Travel Information – World Travel
Japan Reference
Pocket Wifi
Pocket Wifi Routers (think of a battery power bank with 5G router inside) and SIM cards are very popular and affordable for short stays in Japan. You can book from home and pick up at the airport.
If you consider exploring Tokyo/Japan outside of Wifi service, having an internet connection can be very convenient (e.g. to use translation or navigation apps).